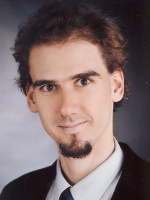 Leibniz Universität Hannover
Institut für Informationsverarbeitung
Appelstr. 9A
30167 Hannover
Germany
phone: +49 511 762-19585
fax: +49 511 762-5333
office location: room 1315
Holger Meuel studied electrical engineering at the Technische Universität (TU) Braunschweig with a focus on signal processing and communication techniques (especially DVB-T/T2). He wrote his diploma thesis with the title Kanalmessungen mit DVB-T und Matlab ("Channel Analysis with DVB-T and Matlab") at the Institut für Nachrichtentechnik (IfN), Abteilung Elektronische Medien: Systemtheorie und Technik ("Institute for Communications Technology, Department of Electronic Media: System Theory and Technology", Prof. Dr.-Ing. Ulrich Reimers) at the TU Braunschweig and received his Dipl.-Ing. degree in April 2010.

After graduation he joined the Institut für Informationsverarbeitung (TNT) of Leibniz Universität Hannover where he was the senior engineer ("Oberingenieur") from Sept. 2010 to Sept. 2017, being responsible for internal and external representation of the institute (students, academic and industrial guests) as well as administrative and organizational tasks.

Holger attended several standardization meetings for the video coding standard "High Efficiency Video Coding" (HEVC) of the MPEG and VCEG "Joint Collaborative Team on Video Coding" (JCT-VC). In that context he also dealt with radial camera lens distortion compensation, perspective aberration correction, scalable video coding and screen content coding.
His current research interests are video coding with special focus on low bitrate video coding for aerial surveillance applications.

Currently he is working towards his Dr.-Ing. (Ph.D.) degree.
Links of Interest:
Aerial Video Testset
Demo Laptop: ROI Coding using AVC and HEVC
Open Hiwi positions
Open Theses
Awards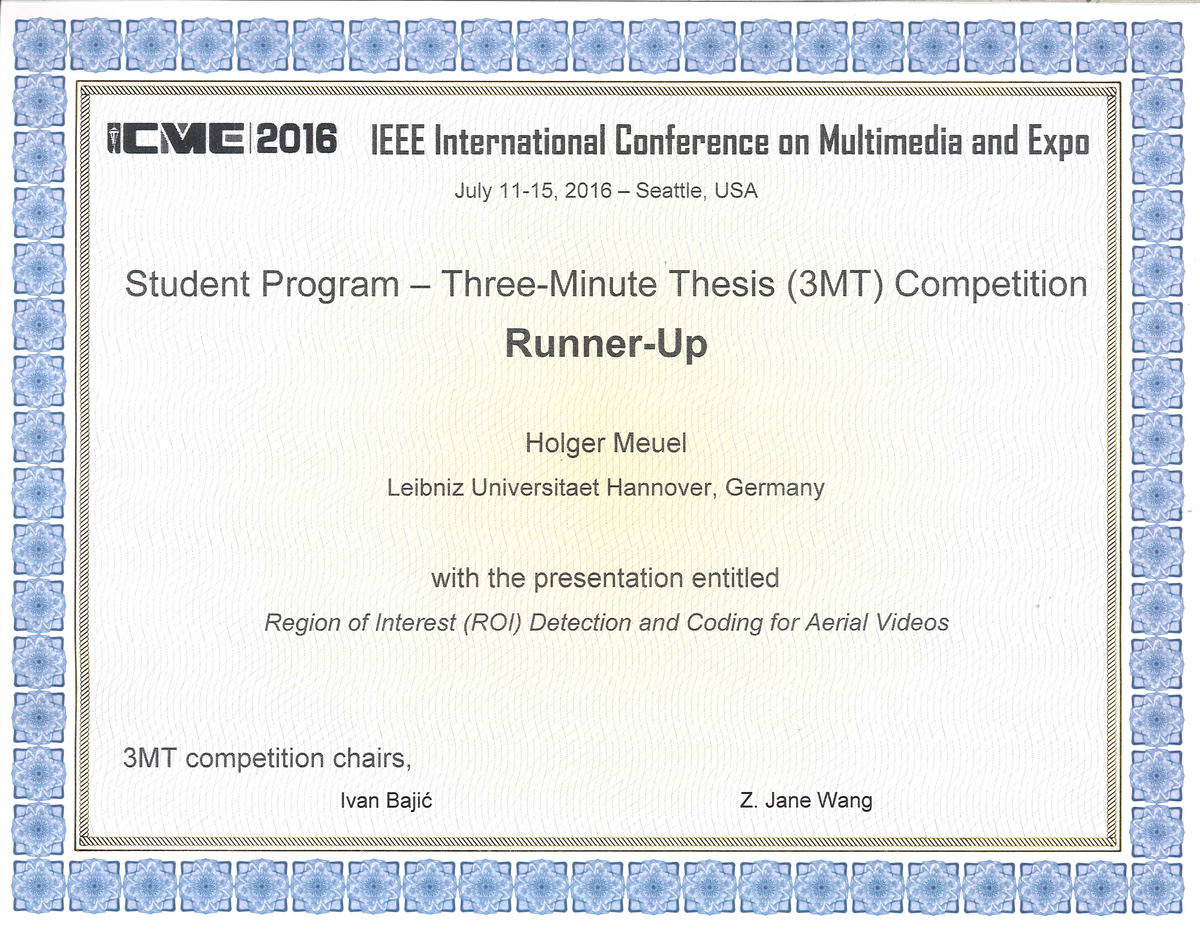 Supervised Theses and Student Works
Show selected publications only
Application of the Rate-Distortion Theory for Affine Motion Compensation in Video Coding

Proceedings of the 5th Summer School on Video Compression and Processing (SVCP) 2019, Universität Konstanz, Workgroup Multimedia Signal Processing, Konstanz, Germany, June 2019, edited by Saupe, Dietmar

Rate-Distortion Theory for Affine (Global) Motion Compensation in Video Coding

Proceedings of the 4th Summer School on Video Compression and Processing (SVCP) 2018, Leibniz Universität Hannover, Institut für Informationsverarbeitung, p. 6, Hannover, Germany, July 2018, edited by Voges, Jan

Robust Long-Term Aerial Video Mosaicking by Weighted Feature-based Global Motion Estimation

17th International Conference on Computer Analysis of Images and Patterns (CAIP), Ystad, Sweden, Proceedings, Part I, Springer International Publishing, Vol. 1, pp. 135-147, Cham, August 2017, edited by Felsberg, Michael and Heyden, Anders and Krüger, Norbert
Administration Activities
Senior engineer ("Oberingenieur") of the TNT from Sept. 2010 until Sept. 2017
Patents
Application: "Method for tracking a region of interest, computer readable storage medium and apparatus configured to track a region of interest" (EP 3179442 A1, lapsed)

Application: "Verfahren und Vorrichtung zum Aufnehmen eines Digitalbildes" (DPMA, Amtl. Az. 10 2017 129 770.7, pending)