Prof. Dr.-Ing. Michael Yang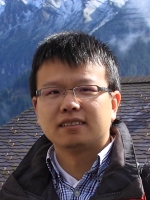 University of Twente
SUG - Scene Understanding Group
Assistant Professor
Hengelosestraat 99
Enschede
phone: +31 53 489 2916
fax: +31 53 487 4335
Michael Yang left the Institut für Informationsverabeitung.
Publications and research activities from the time after the departure are not listed here.
Email: yang(at)tnt.uni-hannover.de
Michael Ying Yang studied Communication Engineering at Sichuan University, China. From 2005 to 2008, he studied Communication and Information System at Institute of Electronics, Chinese Academy of Sciences, China, where he received Ms.Eng. in 07/2008.
From 2008 to 2012, he was a Research Assistant at Department of Photogrammetry, Institute of Geodesy and Geoinformation, Universität Bonn. He was involved in the DFG project 'Semi-automatic generation of highly detailed textured building models', which is part of the Sino-German bundle project 'Interoperation of 3D Urban Geoinformation'. He received the Dr.-Ing. (summa cum laude) in 12/2011 with PhD thesis 'Hierarchical and Spatial Structures for Interpreting Images of Man-made Scenes Using Graphical Models'.
Since 05/2012, he works as PostDoc at the Institute for Information processing (TNT), Leibniz Universität Hanover. His research interests include multiple object tracking and cosegmentation, graphical models, and classification.
Research Interests
---
Probabilistic Graphical Models
Scene Understanding
Object Segmentation and Tracking
Digital Photogrammetry
News
---
From June to August, I have been a Visiting Scholar at GRASP Lab with Prof. Kostas Daniilidis, University of Pennsylvania.
TNT will co-organize the ACCV2014 Workshop: Video Segmentation in Computer Vision , which has been accepted as a full-day workshop on November 2, 2014, in conjunction with ACCV in Singapore.
TNT will co-organize the ECCV2014 Workshop: Graphical Models in Computer Vision , which has been accepted as a full-day workshop on September 7, 2014, in conjunction with ECCV in Zurich, Switzerland.
TNT hosted the CVPR2014 Workshop: Multi-Sensor Fusion for Outdoor Dynamic Scene Understanding (MSF 2014), which has been accepted as half-day workshop on June 28, 2014, in conjunction with CVPR in Columbus, Ohio, USA.
TNT hosted the ISPRS Workshop on Image Sequence Analysis for Object and Change Detection (ISA13). It took place in Antalya, TURKEY, on 11. November 2013.
Show selected publications only
Vehicle Detection in Aerial Images

Photogrammetric Engineering & Remote Sensing, 2019

Video event recognition and anomaly detection by combining gaussian process and hierarchical dirichlet process models

Photogrammetric Engineering & Remote Sensing, 2018

Deep Learning for Vehicle Detection in Aerial Images

IEEE International Conference on Image Processing (ICIP), 2018

Triplet-based Deep Similarity Learning for Person Re-Identification

In ICCV Workshop on Multi-Sensor Fusion for Dynamic Scene Understanding, 2017

Natural Language Guided Visual Relationship Detection

Arxiv 1711.06032, 2017

Superpixel cut for gure-ground image segmentation.

In ISPRS Annals of the Photogrammetry, Remote Sensing and Spatial Information Sciences, 2016

A novel dictionary learning method for remote sensing image classication

In International Geoscience and Remote Sensing Symposium (IGARSS), 2015

Coupled Dictionary Learning for Multi-Label Brain Tumor Segmentation in Flair MRI images

Advances in Visual Computing - 10th International Symposium on Visual Computing (ISVC), accepted for publication (oral presentation), Lecture Notes in Computer Science (LNCS 8887),Springer International Publishing Switzerland, pp. 489-500, USA, December 2014, edited by George Bebis et al

IMPROVED TRIHEDRAL CORNER REFLECTOR FOR HIGH-PRECISION SAR CALIBRATION AND VALIDATION

International Geoscience and Remote Sensing Symposium, IEEE, July 2014

Slice Sampling Particle Belief Propagation

IEEE International Conference on Computer Vision (ICCV), pp. 1129--1136, Sydney, Australia, December 2013

FEATURE EVALUATION FOR BUILDING FACADE IMAGES — AN EMPIRICAL STUDY

International Archives of the Photogrammetry, Remote Sensing and Spatial Information Sciences; Proc. of 22nd Congress of the International Society for Photogrammetry and Remote Sensing (ISPRS), pp. 513-518, Melbourne, August 2012

COMBINE MARKOV RANDOM FIELDS AND MARKED POINT PROCESSES TO EXTRACT BUILDING FROM REMOTELY SENSED IMAGES

ISPRS Annals of the Photogrammetry, Remote Sensing and Spatial Information Sciences; Proc. of 22nd Congress of the International Society for Photogrammetry and Remote Sensing (ISPRS) , pp. 365-370, Melbourne, August 2012

Robust Alignment of Wide Baseline Terrestrial Laser Scans via 3D Viewpoint Normalization

IEEE Workshop on Applications of Computer Vision (WACV) , IEEE, pp. 455 - 462, 2011

Wide Baseline Scene Alignment based on 3D Viewpoint Normalization

International Conference on Advances in Visual Computing, Springer-Verlag, pp. 654 - 665, 2010

Hierarchical Conditional Random Field for Multi-class Image Classification

International Conference on Computer Vision Theory and Applications (VISSAPP), pp. 464-469, 2010

Plane Detection in Point Cloud Data

Department of Photogrammetry, University of Bonn, 2010

Integration of Conditional Random Fields and Attribute Grammars for Range Data Interpretation of Man-made Objects

Annals of GIS, Vol. 15, No. 2, pp. 117--126, 2009
Professional Activities
---
Since 2009 Member of German Association for Pattern Recognition (DAGM)
2012-2016 Secretary of ISPRS WG III/3 'Image Sequence Analysis'