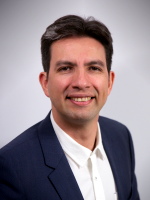 Yasser Samayoa left the Institut für Informationsverabeitung.
Publications and research activities from the time after the departure are not listed here.
Yasser Samayoa studied Electronic Engineering and obtained his licentiate degree from the University of San Carlos of Guatemala, Guatemala. He received a M.Sc. in "Communication & Information Technology" at the University of Bremen, Germany. Since October 2013, he has been working towards his Dr.-Ing. (Ph.D.) degree at the Institut für Informationsverarbeitung (TNT) of the Leibniz Universität Hannover.
Research Interests:
His research interests are in the fields of digital signal processing, information theory and communication systems, more specifically:
Digital Signal Processing
Source and channel coding
High Efficiency Video Coding (HEVC)
Wireless Communications
Channel measurement and modeling
Software defined radio (SDR)
Cooperation in wireless communications
Sattelite communications
Supervised theses:
"Pilot-based Channel Estimation Techniques for OFDM Communication Systems", June 2015
"Symbol Quantization for Cooperative Receivers", March 2015
"OFDM Synchronisation mittels Software Defined Radio", Dezember 2016
"Reduction of PAPR in OFDM Systems via Irregular Active Constellation Extension", January 2020
Former Faculty representative
Former teacher for lecture Digitale Signalverarbeitung
Former teacher for lecture Channel Coding
Former teacher for lecture Algorithmen und Architekturen für digitale Hörhilfen