Holger Meuel studied electrical engineering at the Technische Universität (TU) Braunschweig with a focus on signal processing and communication techniques (especially DVB-T/T2). He wrote his diploma thesis with the title Kanalmessungen mit DVB-T und Matlab ("Channel Analysis with DVB-T and Matlab") at the Institut für Nachrichtentechnik (IfN), Abteilung Elektronische Medien: Systemtheorie und Technik ("Institute for Communications Technology, Department of Electronic Media: System Theory and Technology", Prof. Dr.-Ing. Ulrich Reimers) at the TU Braunschweig and received his Dipl.-Ing. degree in April 2010.

After graduation he joined the Institut für Informationsverarbeitung (TNT) of the Leibniz Universität Hannover where he was the senior engineer ("Oberingenieur") from Sept. 2010 to Sept. 2017, being responsible for internal and external representation of the institute (students, academic and industrial guests) as well as administrative and organizational tasks.

Holger attended several standardization meetings for the video coding standard "High Efficiency Video Coding" (HEVC) of the MPEG and VCEG "Joint Collaborative Team on Video Coding" (JCT-VC). In that context he also dealt with radial camera lens distortion compensation, perspective aberration correction, scalable video coding and screen content coding. He holds one patent and filed two additional patent applications (see below).
His current research interests are video analysis and coding with special focus on low bit rate region of interest (ROI) video coding for aerial surveillance applications.
He received his Dr.-Ing. ("Ph.D.") on August 5th, 2019 from the Faculty of Electrical Engineering and Computer Science of the Leibniz Universität Hannover for his thesis entitled "Analysis of Affine Motion-Compensated Prediction and its Application in Aerial Video Coding".
Holger left the Institute at February 2021 and started working at LGLN.
Links of Interest:
Aerial Video Testset
Demo Laptop: ROI Coding using AVC and HEVC
Awards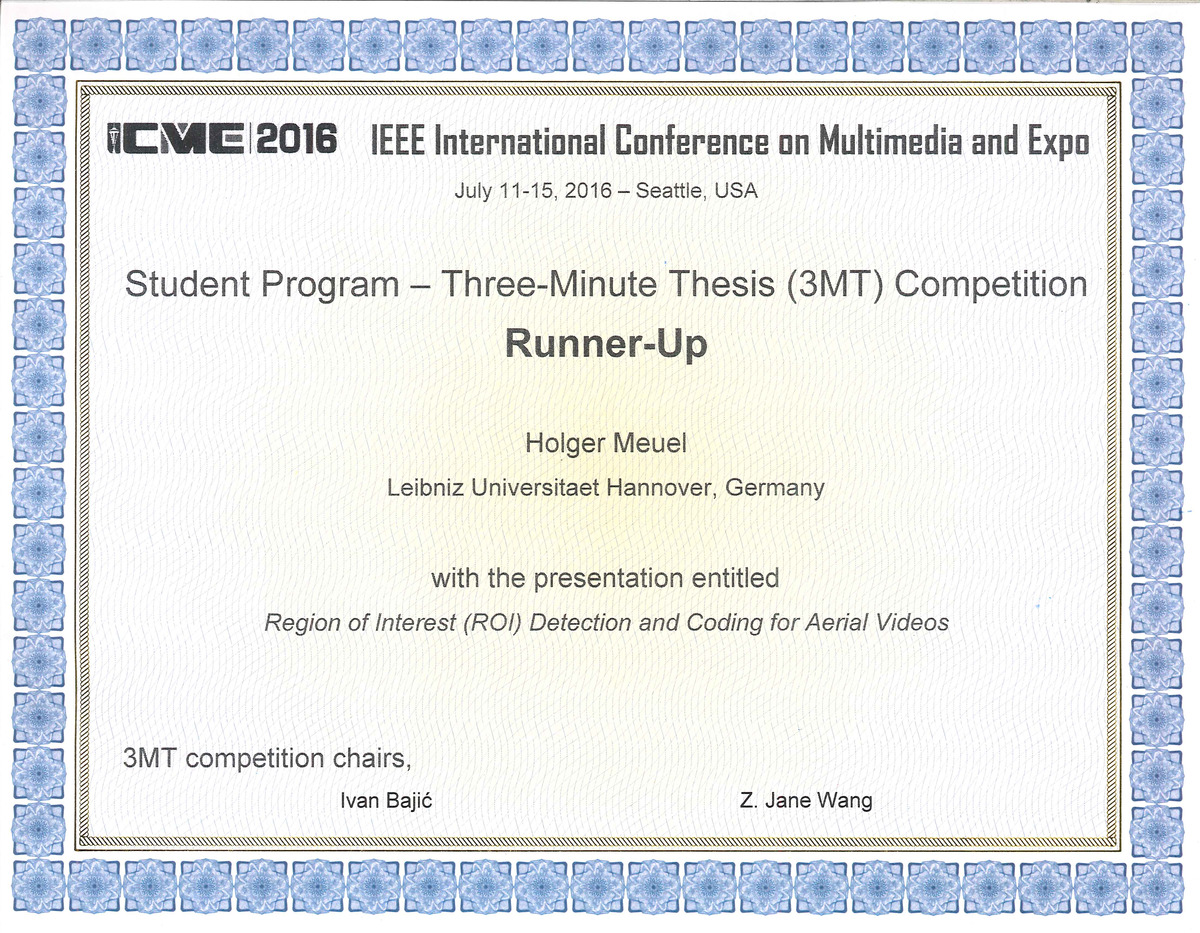 Supervised Theses and Student Works
Maschinelles Lernen für das Textverstehen (Masterarbeit, 2020/2021)
Instanzerkennung für die Änderungsdetektion in Luftbildern (mit Hilfe künstlicher neuronaler Netze) (Studienarbeit, 2020/2021)
Änderungsdetektion in Luftbildern aus niedrigen und mittleren Höhen (mit Hilfe künstlicher Intelligenz in Form des künstlichen neuronalen Netzes DeepLabV3) (Masterarbeit Adrian Ernst, 2019/2020)
Affine and simplified affine motion compensation in video coding (2017/2018)
Effiziente und echtzeitfähige Erstellung und Codierung von mit überlagerten Inhalten erweiterten TV-Übertragungen (siehe Projekt Manicode, 2016-2018)
Globale Bewegungsschätzung mit beschränkten Parametern (Bachelorarbeit Stephan Ferenz, 2016)
Moving Object Detector Improvement by Considering Multiple GMC Images for ROI-based Video Coding Systems (Student intern funded by the German Research Foundation (DFG), 2014)
Color-based Moving Object Detection for Aerial Surveillance Videos (2013/2014)
Multiple People Tracking for Aerial Surveillance Videos (2013)
Visualisierung von Objekttrajektorien in einem Mosaik (Bachelorarbeit, 2013)
Bewegungsunschärfekompensation zur Verbesserung der Prädiktion in der skalierbaren Videocodierung (Diplomarbeit Thorsten Laude, 2012/2013)
Several Research Assistents (RA) (>15) supervised (2010-2021)