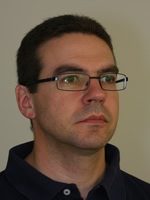 Laboratorium für Informationstechnologie
Schneiderberg 32
30167 Hannover
phone: +49 511 762-5056
fax: 0511-762 5052
Nikolaus Meine left the Institut für Informationsverabeitung.
Publications and research activities from the time after the departure are not listed here.
Nikolaus Meine was born in Hanover/Germany in 1971. He studied electrical engineering with a focus on signal processing and information theory at the University of Hanover and received the Dipl.-Ing. degree in 1999. He worked at the Institut für Informationsverarbeitung of the University of Hanover from 1999 to 2006 in the area of Audio Coding. In 2006 he co-founded the start up company Scenespector Systems developing a camera tracking system for integration of computer graphics in moving images. Now he is working as a freelancer in the field of image processing.
Show selected publications only
Improved Quantization and Lossless Coding for Subband Audio Coding

118th AES Convention, Audio Engineering Society, p. Preprint 6468, Barcelona, May 2005