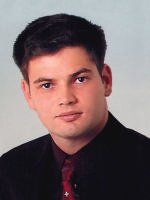 RFmondial GmbH
Appelstr. 9a
30167 Hannover
Yuri Vatis left the Institut für Informationsverabeitung.
Publications and research activities from the time after the departure are not listed here.
Yuri Vatis received Dipl.-Ing. degree in computer engineering with an emphasis on telecommunications from the Technical University Berlin in 2003. Since then he has been working torwards the PhD degree at the Insitut für Informationsverarbeitung of Leibniz Universität Hannover. His research interests are image processing, conventionell as well as distributed video coding. He is an active contributer to the ITU-T Video Coding Experts Group (VCEG) and the ISO/IEC / ITU-T Joint Video Team (JVT). His works on adaptive interpolation filtering are in the
current exploration software of VCEG
.
Show selected publications only
Inter Mode Selection for H.264/AVC using Time-efficient learning-theoretic Algorithms

Proc. ICIP 2009, IEEE International Conference on Image Processing, Cairo, Egypt, November 2009

Adaptive Interpolation Filter for H.264/AVC

IEEE Transactions on Circuits and Systems for Video Technology, Vol. 19, No. 2, pp. 179 - 192, February 2009

Method and Apparatus for Enhanced Video Coding

Eurasian Patent Organization (EAPO), European Patent Office (EPO), African Intellectual Property Organization (OAPI), patent number WO/2006/108654, patent application PCT/EP2006/003410, October 2006

Increasing the coding efficiency by adaptive interpolation filters, adaptive prediction error coding, and 1/8-pel displacement vector resolution

ISO/IEC JTC1/SC29/WG11 Doc. M13137, Montreux, Switzerland, April 2006

Results for EE2 on Model Reconstruction Free Viewpoint Video

ISO/IEC JTC1/SC29/WG11, MPEG04/M10676, Munich, Germany, March 2004
Educational activities
KTA
KTA software of H.264/AVC - an official exploration software for H.264/AVC


YUVPLAYER
yuvplayer for Linux - YUri Vatis player

(version 1.5)


See also