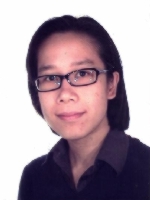 Uni Hannover, TNT
Appelstr. 9a
30167 Hannover
phone: +49 511 762-5314
fax: +49 511 762-5333
Dieu Thanh Nguyen left the Institut für Informationsverabeitung.
Publications and research activities from the time after the departure are not listed here.
Dieu Thanh Nguyen received her Dipl.-Ing. degree in electrical engineering from the University of Hannover in 2003. Since then she has been working toward a PhD degree at the Institut für Informationsverarbeitung of the Leibniz University of Hannover. Her research interests are video coding and transport of compressed video over networks.
She was a scholar of the foundation Friedrich-Ebert-Stiftung and obtained the award for excellent student achievement and social engagement from the Leibniz University of Hannover.
Show selected publications only
Adaptive Error Protection for Scalable Video Coding Extension of H.264/AVC

IEEE International Conference on Multimedia & Expo 2008, June 2008

Congestion Control for Scalable Video Streaming Using the Scalability Extension of H.264/AVC

IEEE Journal of Selected Topics in Signal Processing, Vol. 1, No. 2, pp. 246-253, August 2007

Method and Apparatus for Enhanced Video Coding

Eurasian Patent Organization (EAPO), European Patent Office (EPO), African Intellectual Property Organization (OAPI), patent number WO/2006/108654, patent application PCT/EP2006/003410, October 2006