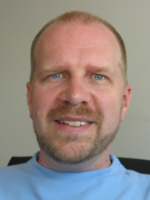 Harald Nautsch left the Institut für Informationsverabeitung.
Publications and research activities from the time after the departure are not listed here.
Harald Nautsch was born in Stockholm, Sweden, in 1967. He received his M.Sc in Computer Science and Engineering from
Linköping University (LiU)
in 1991. He joined the
Information Coding Group
at the
Department of EE
at LiU the same year, doing research on fractal image coding and its connections to wavelet image compression, later moving on to teaching classes on source coding and image, video and audio coding. From July to December 2011 he was a guest researcher at Institut für Informationsverarbeitung (TNT), Leibniz Universität Hannover, doing work on screen-content coding. From July 2012 to January 2013 he will again be a guest researcher at TNT, working mainly on scalable video coding.