The Data Storage System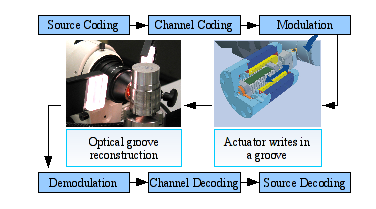 For the whole storage system, the standard model for digital data transmission over a channel is used. Only the channel, where data may be disturbed or corrupted, differs from ordinary data transmission. Here it consists of the actuator's writing, the transmitted signal on the component's surface and of the optical readout, which represents the reconstruction of that signal. The advantage of using this standard model is that source coding, channel coding and the modulation method may be re-used from existing systems.
Structures by Reflection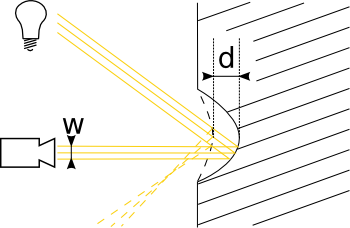 Our main approach uses the reflectance properties of the metal surfaces. Under the influence of directed light, depending on the position and orientation of the camera, surface parts with a specific steepness and orientation have maximal intensity. Thus, the depth from the groove is correlated to the width of the reflecting surface parts.
In the first step of the readout method, multiple surface images are stitched together to a cylindric projection of the mechanical component's surface. Next, the position and orientation of the groove is determined by evaluating the Power Spectrum Density of the image in vertical direction. Finally, the run of the groove is tracked with a Hidden Markov Model with a special regular topology.