As any tracking algorithm, we first need to detect the position of the particles on every frame. In order to deal with the noise present in the images, we apply a Laplacian of Gaussian (LoG) filter which will bring out the "round" microorganisms we want to detect. Of course, this filter can be adapted according to the shape of the particle we need to detect. We then use thresholding to detect the particles.
In order to match the particles from one frame to the next and recover the full trajectory, we make use of the Hungarian matching algorithm. With this method, we encounter 3 important problems:
There is no discrimination of matches even if the cost is very high
It cannot handle entering or leaving particles
The algorithm cannot handle missing particles nor false detections
The cost function as key input for the Hungarian algorithm is created using the Euclidean distances between particles. The first problem is easily solved by using a threshold on the cost matrix. This threshold depends on the observed maximum speed of the microorganism under study.
For the second problem, we make use of IN/OUT states to model the possible entrances and exits of the particles from the Field Of View (FOV) of the holographic microscope.
The third problem is the most difficult to handle and it can generate ID switches between the particles. To deal with it, we create a robust method which we call the Multi-level Hungarian, which consists in applying the Hungarian bipartite matching algorithm in several levels as shown in the Figure below.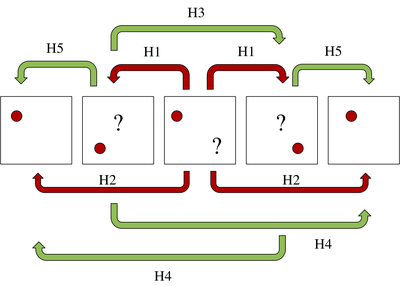 Our algorithm is able to deal with missing data and false detections. The overall method detects between 76\% and 91\% of the particles present in the volume.