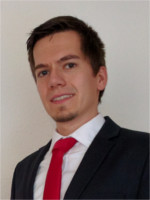 Leibniz Universität Hannover
eNIFE
Schneiderberg 32
30167 Hannover
Germany
phone: +49 511 762-5035
fax: +49 511 762-5052
office location: room 240
Thomas Krause studied electrical engineering with an emphasis on communications engineering at the Leibniz Universität Hannover and received his Dipl.-Ing. degree in 2013. Since his graduation, Thomas Krause is working as a research assistant at the Institut für Informationsverarbeitung.
Research Interests
---
Audio pattern recognition
Audio source localization
Digital signal processing
Structural health monitoring
Show selected publications only
Improved gunshot classification by using artificial data

Conference on Audio Forensics, June 2019

Acoustic Emission Damage Detection for Wind Turbine Rotor Blades Using Airborne Sound

10th International Workshop on Structural Health Monitoring (IWSHM) , September 2015

Comparison of Filter Bank Design Algorithms for use in Low Delay Audio Coding

133rd AES Convention, San Francisco, October 2012
Supervised theses
Blind Dereverberation of Audio Signals - Jonas Althoff (finalized November 2018)
Simulation von Raumimpulsantworten in Rotorblättern von Windenergieanlagen / Simulation of Room Impulse Responses in Wind Turbine Rotor Blades - Sönke Südbeck (finalized November 2018)
Urban Sound Classification with Neural Networks - Simon Reuß (finalized April 2018)
Synthetische Generierung impulsartiger Geräusche für die Datenbasiserweiterung von Detektionsalgorithmen / Synthesis of Impulse-like Sounds for Expanding Data Bases of Detection Algorithms - Christian Busse (In cooperation with Jade Hochschule) (finalized February 2018)
Acoustic Source Localization Based on Time Difference of Arrival - Nils Nommensen (finalized October 2017)
Systemtheoretische Modellierung einer Körperschall-Übertragungsstrecke / System-Theoretical Modeling of a Structural Sound Signal Path - Reemt Hinrichs (finalized May 2017)
Untersuchung verschiedener Audiomerkmale für die Detektion von Umgebungsgeräuschen / Analysis of Different Audio-Features for Detection of Enviromental Sounds - Lorenz Flemig (finalized May 2017)
Time Difference of Arrival Estimation for Acoustic Source Localization - Kai Wei (finalized October 2016)
If you are interested in writing a thesis, please do not hesitate to contact me.
Mentoring
Former activity