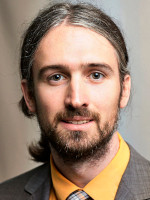 Daniel Brandes left the Institut für Informationsverabeitung.
Publications and research activities from the time after the departure are not listed here.
Daniel Brandes studierte Mathematik mit Studienrichtung Informatik an der Leibniz-Universität Hannover. Er erhielt sein Diplom im Oktober 2012. In seiner Diplomarbeit "Finite Elemente Berechnung zur Spektralen Zerlegung von Laplace Operatoren auf Linienbündeln über dreidimensionalen Objekten" berechne er Isoflächen von harmonischen Funktionen auf modifizierten Laplace-Operaratoren.
In seiner Promotion beschäftigt er sich mit Remeshing mit Fokus auf Quad- und Hexremeshing-Verfahren.