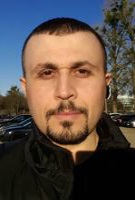 Saif Al-Shaikhli left the Institut für Informationsverabeitung.
Publications and research activities from the time after the departure are not listed here.
Saif Al-Shaikhli studied Biomedical Engineering at the Nahrain University in Baghdad. He received his Master degree from Al-Nahrain University in June 2006. Since 2007 he has been working as a Lecturer in Baghdad university in biomedical engineering department. Since October 2011 he has been working toward a PhD degree at the TNT Institute for information processing 'Institut für Informationverarbeitung' at the Leibniz University of Hannover. His research interests are brain and liver segmentation, and tumor classification in MRI and CT scan medical images.
Show selected publications only
Coupled Dictionary Learning for Multi-Label Brain Tumor Segmentation in Flair MRI images

Advances in Visual Computing - 10th International Symposium on Visual Computing (ISVC), accepted for publication (oral presentation), Lecture Notes in Computer Science (LNCS 8887),Springer International Publishing Switzerland, pp. 489-500, USA, December 2014, edited by George Bebis et al

Brain Tumor Classification Using Sparse Coding and Dictionary Learning

IEEE International Conference on Image Processing (ICIP), accepted for publication (oral presentation)., IEEE Xplore Digital Library, pp. 2752-2756, France (Paris), October 2014

3D Brain Segmentation Using Active contour with Multi-Labeling Method

IEEE First National Conference for Engineering Sciences (FNCES), IEEE Iraq Section, November 2012

Segmentation of Prostate Gland Tumor in Ultrasound Images

International Conference in Computer Science, Baghdad, Iraq, February 2010

Segmentation of Tumor Tissue in Gray Medical Images Using Watershed Transformation Method

International Journal of Advancements in Computing Technology(IJACT), Vol. 2, pp. 123-127, Korea, January 2010

A Histological Study of the Effect of the Low Level Laser Therapy on Wound Healing

Nahrain University College of Engineering Journal (NUCEJ), Vol. 12, No. 1, pp. 80-88, January 2009