Awards
Chinese Government Award
Kang Liu won the
2008 Chinese Government Award
for Outstanding Self-Financed Students Abroad. The award, which recognizes 26 Chinese doctoral students studying in Germany, was presented on 26. April, 2009 at the Chinese Enbassy in Berlin., 2009-04-26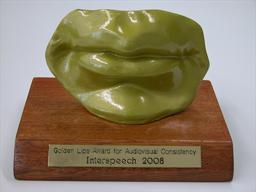 Golden Lips Award for Audiovisual Consistency
Prizewinner:
Kang Liu, Prof. Dr.-Ing. Ostermann
Interspeech 2008, Brisbane, Australia, 2008-09-26
In the first visual speech synthesis challenge they are awarded for the excellent research work on facial animation and the paper: Realistic Facial Animation System for Interactive Services

1. Klasse des Verdienstordens der Bundesrepublik Deutschland
Prizewinner:
Prof. Hans-Georg Musmann
Celebration hour in the guesthouse of the federal state government of Lower Saxony, 2008-05-15
Outstanding earnings to the science location Germany.
Olympus-Prize (pdf)
Prizewinner:
Bodo Rosenhahn
Olympus Soft Imaging Solutions, 2007
DAGM-Main Prize (pdf)
Prizewinner:
Bodo Rosenhahn
Deutsche Arbeitsgemeinschaft für Mustererkennung, 2007
For his work Clustered Stochastic Optimization for Object Recognition and Pose Estimation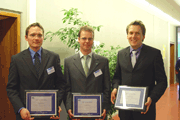 Carl Pulfrich Award
Prizewinner:
Sönke Müller
Intergraph, 2007-05-29
High Resolution Earth Imaging for Geospatial Information
Best Paper Award
IEEE Signal Processing Society, 2007-04-17
Perceptual audio coding using adaptive pre- and post-filters and lossless compression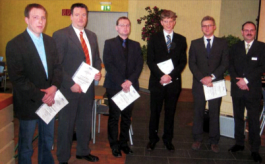 Studienpreis 2006 des VDE Hannover
VDE Hannover, 2007-05-03
For his Diploma Thesis Kamerakalibrierung mit beweglichen Kalibriermustern
Werner von Siemens Excellence Award 2006
Prizewinner:
Andreas Giese
Siemens AG, 2006-10-26
Development of a Wavelet packetbased Filter Bank for Cochlea Implants
IVCNZ Best Student Paper Award
Prizewinner:
Bodo Rosenhahn
Image and Vision Computing New Zealand, 2005-11-05
For his work Geometric and photometric correction of projected rectangular pictures
DAGM-Main Prize (pdf)
Prizewinner:
Bodo Rosenhahn
Deutsche Arbeitsgemeinschaft für Mustererkennung, 2005
For his work A System for Marker-less Human Motion Estimation
Studienpreis 2004 des VDE Hannover
Prizewinner:
Torsten Büschenfeld
VDE Hannover, 2005-03-07
For his student research project (Studienarbeit) Schnelle Tiefenmessung in Onboard-Videosequenzen durch ein merkmalsbasiertes Stereoverfahren
Dr.-Ing. Siegfried Werth Prize
Prizewinner:
Bodo Rosenhahn
DAGM-Prize (pdf)
Prizewinner:
Bodo Rosenhahn
Deutsche Arbeitsgemeinschaft für Mustererkennung, 2002
For his work Adaptive Pose Estimation for Different Corresponding Entities
DAGM Zusatzpreis
Prizewinner:
Reinhard Koch
Deutsche Arbeitsgemeinschaft für Mustererkennung, 1996
For his work: 3-D Modeling of Human Heads from Stereoscopy
DAGM Hauptpreis
Deutsche Arbeitsgemeinschaft für Mustererkennung, 1995
For his work: Ein Szeneninterpretationssystem zur Modellierung dreidimensionaler Körper
DAGM Zusatzpreis
Prizewinner:
Ursula Rost, Reinhard Koch
Deutsche Arbeitsgemeinschaft für Mustererkennung, 1995
For their work: Rekonstruktion von Schleifpapieroberflächen für die Qualitätskontrolle
Förderpreis
Niedersächsische Krebsgesellschaft, 1990
Auszeichnung der Dissertation mit dem Thema: Entwicklung eines rechnergestützten mikroskopischen Meßsystems zur Diagnostikverbesserung und Qualitätssicherung in der Zytologie